Jurassic World: Dominion Dominates Fandom Wikis - The Loop
Play Sound
"

Sometimes folks ask where the term "Extreme Fever" comes from. I don't tell them, though.

"
ㅤ — Bjorn in Peggle Deluxe (NG+) ㅤ ㅤ
Bjorn is the first Peggle Master the player mets in every single game of the franchise, and is the headmaster of the Peggle Institute. He is featured in all Peggle games so far.
Appearance
As an unicorn, Bjorn is a magical horse with one golden, pointed spiraling horn projecting from his foread. He has dark blue-ish eyes, azure mane and white equine coat.
In Peggle 2, his horn glows in all the rainbow colors when Super Guide is activated.
In Peggle Blast, he wears aviator goggles on his forehead. When Super Guide is activated, their lenses glow in all the rainbow colors.
Magic Power
Super Guide
Bjorn's unique ability. Can be used after the turn when the player hits a green peg. It draws a clear line that shows where the ball will go. After the player aims, the ball follows the line.
From Peggle 2 on, his power now draws a longer, colorful line or orange line instead of the old blue one, and it prolongs until it reaches two pegs. Otherwise, it works exactly like in the previous versions of Peggle series.
Special Style Points
Double Guide (5,000 pts) - Hitting 2 green pegs in a single turn.
Usage Tips
Use his long range power if you intend to achieve

long-shot bonuses

or more balls for the basket.
Levels
Peggle
Peggle Nights
Peggle 2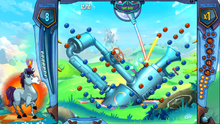 Peggle Blast
Quotes
Click here to see his quotes.
Gallery
Trivia
He's also featured on the main menu in Peggle, Peggle Nights, and Peggle Extreme.
Bjorn dreams to become a vigilante.
Bjorn used to have a blog called Peggle Fever. The original website has been taken down, but several posts are available to be read on Web Archive.
It's revealed on Master Hu's Peggle Nights stages that, if he had a band, Bjorn would be the keyboard player.
Tile Turnip's first costume from Plants vs. Zombies 2 is a reference to Bjorn's design.
In the trailer for Peggle Blast, a zombie from Plants vs. Zombies is seen riding Bjorn backwards.