"
Buddy Turtle is a lifelong miner with a heart of gold and a hard-to-understand accent.
"
— Peggle Blast Facebook
Buddy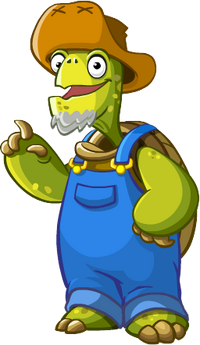 Buddy Turtle - a Peggle Master in Peggle Blast
Culture
Unknown
Gender
Male
Species
Turtle
Magic Power
Draggable Bucket
Special Style Points
Bucket Bonus: 2,500 (Dueling with Fnord only)
First Appearance
 ?
Buddy (full name: Buddy Turtle) is a Peggle Master in Peggle Blast who was revealed in the 2.3.0 update.
Draggable Bucket
Edit
Draggable Bucket is his magic power which is active when the player hits a green peg. Once he or she hits it, the Free Ball Bucket becomes a Draggable Bucket which is full of rockets. The player has a short time to prepare to drag it around. The player must try to let a ball fall into that bucket by dragging it to activate a rocket which shoots straight after three seconds, hitting any peg in its way.
There is a fun fact that Buddy Turtle's pet peeve is seeing a dog wearing a straw hat.
He and Kat Tut are the only masters that can transform the Free Ball Bucket.
See also
Edit