Claude
Claude in Peggle
Culture
Undersea
Gender
Male
Species
French Crab-Lobster
Magic Power
Flip Out!
Special Style Points
Flipper Maniac (25,000 pts)
First Appearance
Pearl Clam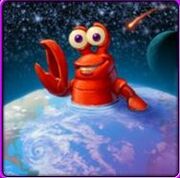 Claude is a French Crab who was possibly named after Claude Debussy, who composed Claire de Lune, but never worked on Peggle. Claude is a talking lobster who is the 5th master you meet in Peggle's Adventure Mode and is a member of the Peggle Institute.
Appearance
Edit
He wears a green shorts and green diving fin.He has purple eyes,his Chitin Exoskeleton is red.
Flip Out!
Edit
Claude's power creates two controllable flippers in the two bottom corners, making it easier to get good Combos. The flippers are controlled by the mouse and can bounce the ball back into the board to hit more pegs.
Special Style Points
Edit
Flipper Maniac - (25,000 pts) - Hitting 25 pegs in a single turn
Pollution Picnic
Vast Visitor
Effiel Power
Old Friend
Au Revoir
to be added