Lord Cinderbottom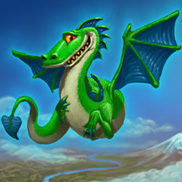 Lord Cinderbottom's Portrait
Culture
Dragon
Gender
Male
Species
Wyvern
Magic Power
Fireball
Special Style Points
Great Balls of Fire (25,000 points)
Hot Stuff (25,000 points)
First Appearance
The Love Moat
Lord Cinderbottom is a Wyvern who wishes to become a firefighter, as shown in Peggle Nights. He is one of the more peaceful species of dragons, a wyvern to be specific.
Appearance
Edit
Cinderbottom is a Wyvern who has green skin with a white belly. Wings with within blue, as well the end of his tail. He has red/orange eyes.
Lord Cinderbottom's Fireball has the ability to burn through Pegs, making them dissapear altogether. Before launching one of these miniature suns the Free Ball Bucket will be blocked by a metal dome, as so to allow the fireball to bounce about and hit more pegs. This effect is similar to the barrier employed by Claude , however it does not react to the player directly. Under the flaming inferno of Lord Cinderbottom's firebreath it will melt away the barrier on the first bounce, allowing the Fireball to go in on the second one. This gives the player a free ball, and 25,000 Style points. As with all powers, you can get a bonus for hitting two green pegs in one shot. In Lord Cinderbottom's case, this is known as "Great balls of Fire".