Splork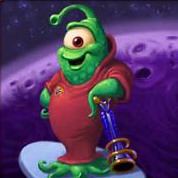 Splork in Peggle
Culture
Space
Gender
Male
Species
Alien
Magic Power
Space Blast
Special Style Points
Big Bang (25,000 pts)
First Appearance
The Amoeban
Splork is an alien who is a master of Bowling; or at least he wants to be. He is also a member of the Peggle Institute and is the fourth character whose face you come across in Peggle's Adventure Mode.
Appearance
Edit
He wears a red T-shirt,has a red eye and his skin is green
Space Blast
Edit
Splork's magic power is called Space Blast, which uses highly advanced alien technology to light up all pegs nearby.
(25,000 pts) - Hitting both green pegs in one turn.
The following are Splork's levels in adventure mode.
Bowl of Drome
Arrivance
Last Ball
Explodious
Perfectified
He is most useful in challenge stages that require you to clear all pegs.