"

Such a sunny day! What? You say it's raining? Well, even a rainy day can be sunny with the right perspective!

"
ㅤ — Tula in Peggle Deluxe ㅤ
Tula is a Peggle Master. She is a member of the Peggle Institute, and the 7th character to be introduced in the series overall. After Peggle and Peggle Nights, she reappears in Peggle Blast with a new magic power called Sunburst.
Appearance
Tula has the appearance of an anthropomorphic sunflower. Her structure has an orange-brown disc floret, yellow petals and a green stem, plus two leaves that are used as hands. Tula's always portrayed wearing a reddish lipstick.
In Peggle Blast, Tula wears a translucent light-blue raincoat and a red rain hat with a small yellow flower over it. She also wields a red umbrella with a silver shaft.
Magic Powers
Flower Power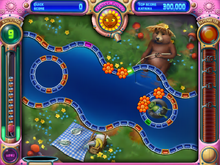 In Peggle and Peggle Nights, Tula's power lights up orange pegs around the green pegs you hit. When this event happens, little smiley flowers light 20% of the remaining orange pegs on the level (the closest ones to the green peg).
Sunburst
In Peggle Blast, Tula's power lights up a concentrated ring of sunlight to fill the shot following the activation of a green peg, similar to the Ring of Fire's circle. Upon the tap of the screen, the area will explode with sunlight causing all pegs in the lighted area to transform into flowers; thus activating them for the progression of the level.
Special Style Points
Petal to the Metal (25,000 pts) - Hit both green pegs in one single turn.
Usage tips
Tula's Flower Power is best used early in the stage since it clears 20% of the existing pegs.
She's a good master to beat the Challenge Levels that require 35/45/55 orange pegs cleared instead of the usual 25.
Levels
Peggle
7-1. Holland Oats
7-2. I Heart Flowers
7-3. Workin From Home
7-4. Tula's Ride
7-5. 70 and Sunny
Peggle Nights
7-1. Founding Fathers
7-2. The Henge
7-3. Many Minarets
7-4. It's a Dry Heat
7-5. Wallflower
Peggle Blast
151.

Upsy Downsy


152.

Sundialed


153.

Fortified Eggs


154.

Flowery


155.

Time It!


156.

Sink Sunk


157.

Gems of Time


158.

The Squeeze


159.

Perched Eggs 2


160.

Me Oh Fly


161.

Abstracted


162.

Supergems!


163.

Flooded


164.

Versus


165.

Swirlin' Love


206.

Stormy
Quotes
Click here to see her quotes.
Gallery
Trivia
She is the first female Peggle Master.
Her biggest dream is to become a world traveler.
It's revealed on Master Hu's Peggle Nights stages that, if he had a band, Tula would be the drummer.
In Peggle Blast's level 164, she mentions her cousin is the Sunflower from Plants vs. Zombies.
Her style shot Petal to the Metal is a play with the expression "pedal to the metal", used to indicate that something is being pushed forward as fast as possible.