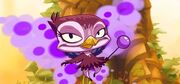 We need more orange pegs and green pegs.

This article is currently under construction. You can help by expanding it; it's your choice.
Windy
Culture
Fairy
Gender
Female
Species
Owl Fairy
Magic Power
Fairy Flock
Special Style Points
Big Purps(15,000 points)
Fairy Fiesta(10,000 points)
First Appearance
Peggle 2
Windy is a Peggle master introduced in Peggle 2. Her power is Fairy Flock, which transform four random blue pegs into purple pegs. This is very handy to earn Free Balls. The only way to unlock her is to buy her as downloadable content. She is a purple owl with a fairy wand and two magical butterfly wings.
Special Style Points
Edit
Big Purps (15,000 points) Hitting 3 purple pegs in 1 time at the same turn.
Fairy Fiesta (10,000 points) Hitting all 8 purple pegs at the same turn.